TWO Tuck-Ready Rywire Radiators Available!
---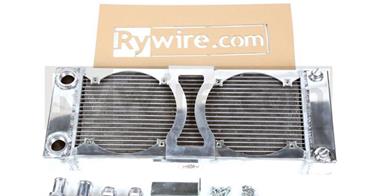 The 2nd type of Rywire Custom Radiators are in!
First Edition Dimensions:
24 inches wide by 9 inches tall
Second Edition Dimensions:
24 inches wide by 12 inches tall
Dual-core & Dual-pass (so it flows twice making cooling 30-40% more efficient!)
-16 bungs can be used, or *hose ends, its your choice!
*Hose adapters are included
Mounting tabs that you can easily make fit with any application.
2 mounting locations to choose from.
Tabs can also be flipped for even more mounting options.
Drain tab on top or bottom making this a FLIPPABLE design, You can even us the top drain for a custom filler.
Fan mount is made for our (2) Dual 8-inch Derale fans.
This radiator can work with any car & any style engine.
Please test fitment before ordering with the sizes above.
Radiator Q&A:
Where will the filler neck be on this radiator?
There is no filler neck on the radiator, you will be responsible for that on your own. Putting one on the radiator itself will place it too low, and you wont be able to bleed properly.
(See the Radiator write-up on the October Issue of Honda-Tuning Pages 32, 33 & 34 for a full answer to this question.)
Also would i have to mod my hood latch at all?
You will not have to modify the hood latch.
What would I do about the over flow for the coolant?
The overflow will need to be placed off the filler.
What kind of hoses wold i need to run this?
Our radiators are made with -16 AN hose ends, or standard slip over hose ends.
The Radiator is $425 for the 24×9 and $475 for the 24×12 – Add the 2 Fans for $100!
---
---